OVERVIEW:
SpamExperts helps you keep your network safe from spam, virus attack, ransomware, malware and phishing activities as well as prevents it from infecting your network.It inspects all incoming email using many factors to determine if an incoming message is safe which includes:
Spam filtering – Expert Spam filtering and real-time detection of email-borne threats
Advanced Antivirus – Blocks both spam and its malicious attachments such as viruses, malware, ransomware, spyware.
Compatibility – Suitable with any mail server
Log Search – Easily search accepted and rejected messages
Quarantine Mails – Web-based & IMAP based quarantine
PDF / HTML reporting – Generate quarantine reports in PDF/HTML format
Delivery queue – Automatically redelivers emails and queue them if the primary mail server is down.
Extension blocking – Restrict unwanted attached file extension from the inbox.
Email size restriction – Allows to set a size limit, quarantine or reject incoming emails based on its size.
White/Blacklist – Advance tool to set incoming emails to safe list and reject list.

Steps to access SpamExperts from Client Area:
Login into QualiSpace client area.
Go to services > My services.(L.H.S of the client area)
Select the domain for which you have opted the Spam Expert Service and click "Log in To Panel" (Refer the screenshot )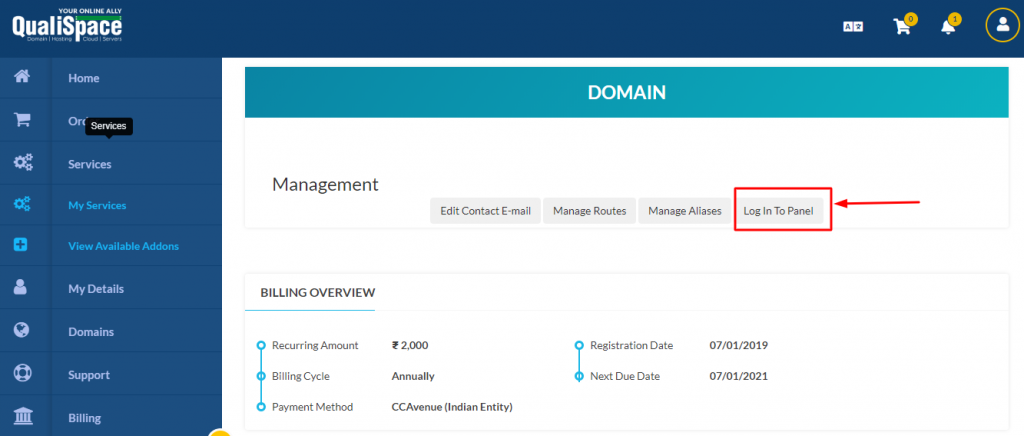 4. Login through the provided Username and Password.