An FTP account is used to Manage and Upload files on to your Hosting Server. The FTP & cPanel login details will be mostly same. In case you want to give access to other Users just for FTP and not cPanel then you can create new FTP users for them.
Here, I will walk you through the steps to create a new FTP account:
Login to your cPanel account and search FTP Accounts and click on it.

In the Log in field, type the name of the FTP user. A full FTP user name will always be formatted as test@example.com
In the Password fields, enter a password which will be used to authenticate this FTP account. Always make sure to use a complex password with special characters.
In the Directory field, cPanel will auto-assign a default directory based on the FTP username,however, you can change the Directory by erasing everything in the box and providing the directory you would like the user to access.
Note: The User will be limited to access the Directory you have chosen and will not be able to navigate outside of the specified directory; however, they will be able to access all files and subfolders inside that folder.
In the Quota field you can set a quota for the User or keep it Unlimited by chosing the options accordingly.
Note: Quota is the maximum amount of bandwidth the FTP user may use. If you leave the quota as unlimited, the FTP user will have the ability to use the total amount of bandwidth for the cPanel account.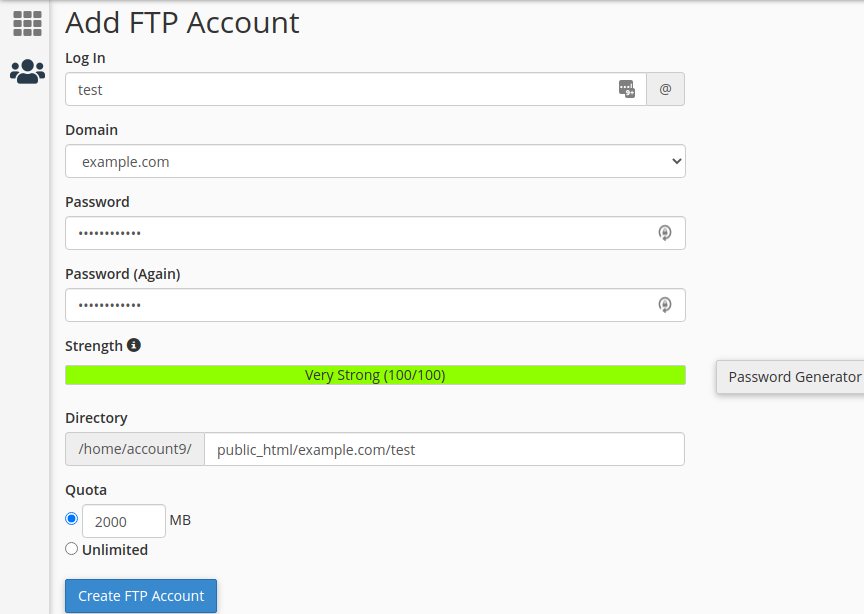 Once you are done filling all the fields, click on Create FTP Account option.
You will receive a Success message once the FTP Account is created successfully as below:

That's it. Now, you can provide the FTP details to the User without providing them the access to the whole Directory.