Secure Socket Layer (SSL), is a digital certificate issued for a Domain by a central authority called the Certificate Authority. SSL validates your websites identity, and encrypts the information visitors send to, or receive from, your site.
SSL encrypts the information sent from user's browser to your website and also authenticates your websites identity. It ensures a secure website and increase customer loyalty which would prove beneficial for your online business.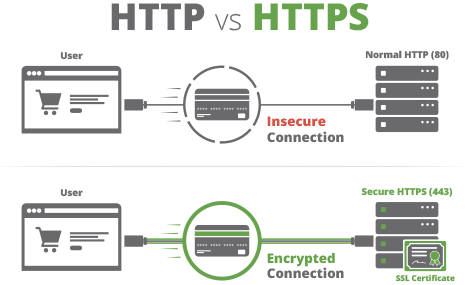 The biggest reason websites use SSL is to protect sensitive information that's sent between computers and servers. If information like credit card numbers, passwords, and other personal information isn't encrypted this leaves it open for hackers to easily step in and steal the information.
With the SSL certificate. your information is unreadable to anyone who attempts to steal it. The only people able to decipher it are the intended recipients at the other end of the connection.
SSL certificates are quickly becoming a necessity. According to Google, SSL and HTTPS should be used everywhere across the web. Sites not using SSL will be marked as unsecured if they're viewed using the Google Chrome browser.
On the other hand, a site that can prove it takes security seriously can attract more visitors. Surfers and online shoppers also increasingly recognize the on-screen presence of a small padlock icon or a website address that begins with "https://…" as signs that they can trust the site they're connecting to. That's SSL or 'secure sockets layer' in action.
The different types of SSL certificate types are as follows.
Domain Validated Certificates (DV SSL)

DV SSL is an entry-level SSL, it's issued lightning fast and provides strong encryption. A Domain Validation SSL Certificate provides strong encryption to websites like blogs and brochure sites. A DV SSL can be issued within minutes, making it the go-to option for anyone looking to secure their domain quickly.

Wildcard SSL Certificate

A Wildcard SSL Certificate saves you money and time by securing your domain and unlimited sub-domains on a single certificate. Wildcard certificates work the same way as a regular SSL Certificate, allowing you to secure the connection between your website and your customer's Internet browser – with one major advantage.

Extended Validation Certificates (EV SSL)

EV" stands for Extended Validation. Extended Validation SSL Certificates are a new type of SSL Certificate which is intended to give users more confidence in who you are (the legal entity who has applied for the ssl certificate) and that you control/own your web site.

Organization Validated Certificates (OV SSL)

SSL-certificates are an essential requisite for e-commerce. OV-certificate (Organisation Validation) is a certificate that confirms the existence of the organisation. To get an OV certificate, the company must complete the validation process.

Multi-Domain SSL Certificate (MDC)

A multi-domain certificate is designed to secure many domain and/or subdomain names. Multi-domain certificates can secure the combination of completely unique domains and subdomains with different TLDs (Top Level Domains)