What is Domain life cycle:
It is necessary to know that when you register and pay for a domain, you do not actually buy it, in fact, you are actually paying for the rights for using the domain name for a particular span of time. Though, there is much flexibility for the amount of time you can use it, as at a time you can book the rights from 1 to 10 years. Once this period runs out, the domain will get expire. Before this happens, you'd need to repay for the desired span of time.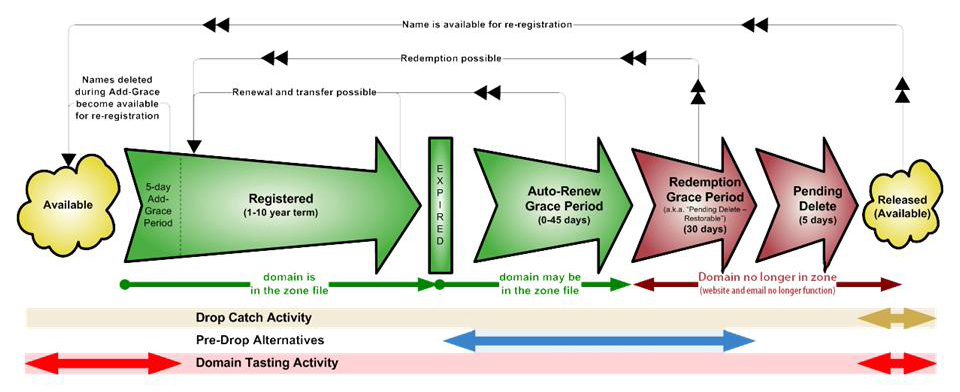 List of Domain Life Cycle:
1. Available: While a domain name is in the 'Available' stage it can be registered by any person or organization via a domain registrar that operates under the tld authority. If you would like to register a domain and it is available for registration, you can proceed with the process via your Client Area→ Domains section → Register New Domain.
2. Active: When a domain is in this phase it means that it has been already registered and is fully functional. Domains of the most common extensions can be registered for a minimum of 1 year and a maximum period of 10 years. During this state, the domain can be renewed at any time but its maximum life period cannot be extended to a period longer than 10 years. While being in this phase the domain can be renewed on the standard price rate for the domain TLD via the domain registrar. Additionally, this is the only phase during which you can transfer your domain.
3. Expired: If a domain is not renewed before its expiration date, the domain status will be changed to Expired. Being in this phase the domain will no longer work and any website services via the domain will be no longer accessible via it. If your domain enters this phase you can renew it via your domain registrar to reactivate it on the standard pricing. The domain will stay in this phase for about 45 days and can be renewed only by its owner. If the domain is renewed it will go back to the Active phase.
4. Redemption/Grace Period: If a domain name is not renewed in the 45-day-period while being in the Expired state it will go into the Redemption phase. The redemption period might vary depending on your domain registrar or domain extension but usually lasts for up to 30 days. During this period the domain can be renewed only by its owner but additional fees will be applied depending on the registrar to reactivate the domain.
5. Pending Deletion: In case you do not renew your domain name during the Expired or Redemption phase your domain will go into the Pending Deletion stage. Domains in Pending Deletion cannot be renewed and usually stay in this phase for up to 5 days until all records for the domain are removed from the domain authority zone.